LNVH board - general information
The LNVH board consists of five members:

Hanneke Takkenberg, chair
Angela Maas
Sandra Groeneveld (not in photo)
Sandra Ponzanesi (not in photo)
Henriëtte Prast, treasurer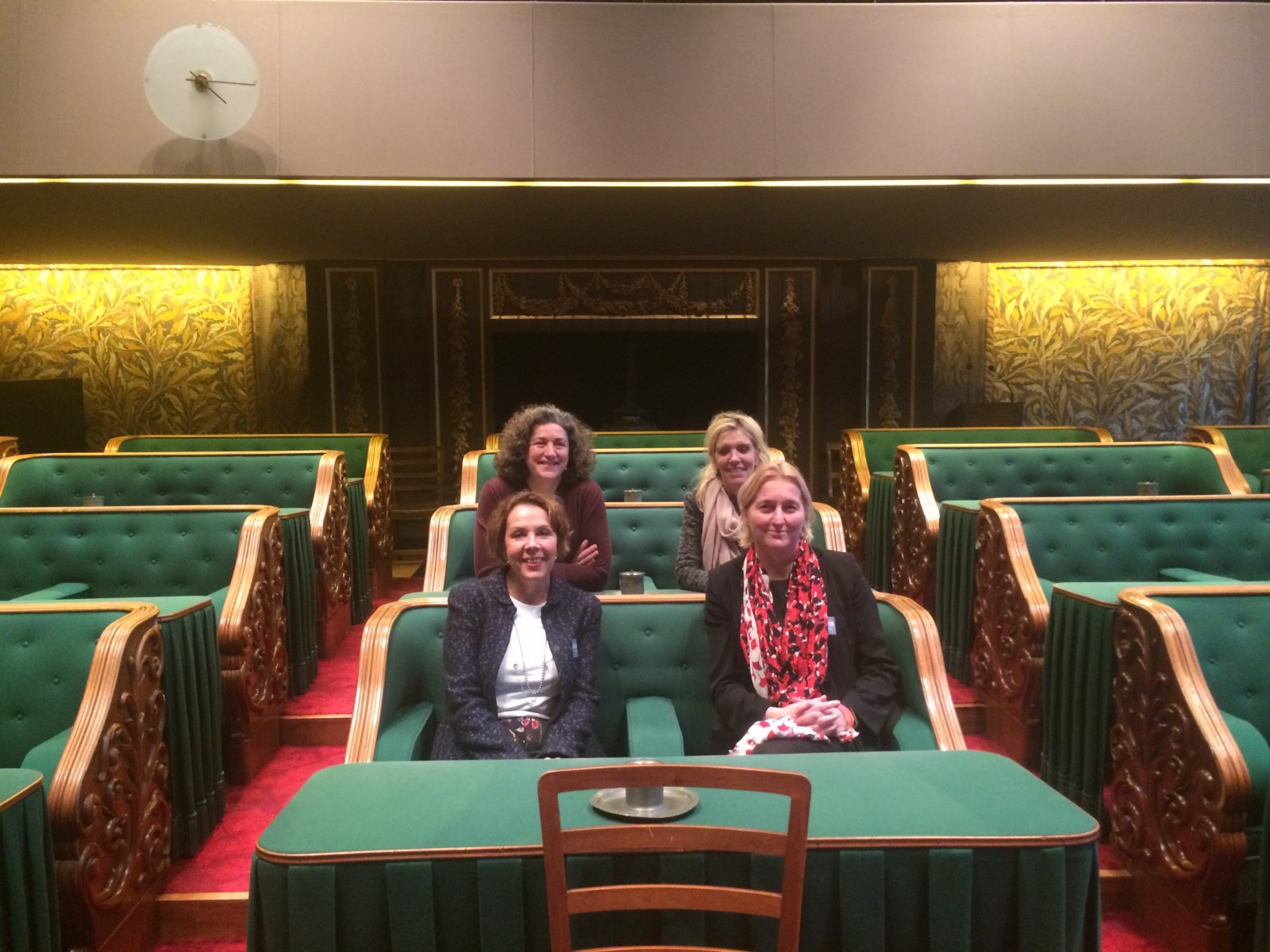 ---
Hanneke Takkenberg
Hanneke Takkenberg is a clinical epidemiologist and professor of clinical decision making in cardiothoracic interventions at the department of Cardio-Thoracic Surgery in Erasmus University Medical Center in Rotterdam. She is married and has 4 daughters.
After obtaining her MD at VU in 1994, she worked for 2 years in Los Angeles, and then returned to The Netherlands to pursue a scientific career in clinical cardiovascular practice. In 2002 she obtained her PhD in cardiovascular clinical epidemiology at Erasmus University Rotterdam and started her research group in Erasmus MC. In 2007 she co-founded with Jolien Roos-Hesselink VENA, the Erasmus MC Network of Academic Women. In 2012 she was appointed professor.
Hanneke is a scientific leader in the field of heart valve disease and currently president-elect of the Heart Valve Society (HVS). Her research focuses on clinical decision making and patient empowerment including translation of this knowledge to clinical practice through the development and implementation of patient information portals and decision aids for patients with heart disease.
Gender diversity and diversity&inclusion as a tool to improve research and achieve an inclusive scientific community are cornerstones of her work as Chief Diversity Officer at Erasmus University (2015-present). Professor Takkenberg is chair of the Erasmus Female Professors Network board and advisory board member for Erasmus Center for Women and Organisations.
Hanneke is a LNVH board member since January 1, 2018.
---
Angela Maas
Angela Maas has worked as a cardiologist for more than 25 years and is specialized in heart disease in women. Since 2003 she runs specific female outpatient cardiology programs. Her main focus is the early recognition of high risk women, menopausal symptoms and recurrent chest pain in women at middle-age. Since May 2012 she works as a full professor of cardiology for women at the Radboud UMC in Nijmegen. She has initiated several multicenter collaborative projects with other disciplines (gynecologists, vascular imaging, epidemiologists, oncologists, primary care, etc) to improve healthy ageing in women. She is currently establishing a tertiary expertise center for microvascular coronary disease and is involved in many educational programs for students and doctors. She received several awards for her work and is listed in the Opzij as top 10 of most powerful women in Dutch healthcare.
Angela is a LNVH board member since May 1st 2014.
---
Sandra Groeneveld
Sandra Groeneveld is a Professor in Public Management in the Institute of Public Administration of Leiden University. She teaches in the fields of organization theory and public management as well as on research methodology and quantitative research methods and techniques. Her research interests include the structure and management of public organizations, focusing particularly on questions of diversity management, leadership and organizational change.
Before joining Leiden University she was employed at the Department of Public Administration of Erasmus University Rotterdam as an assistant professor (2006-2011) and as an associate professor (2011-2014). From 2009 until 2013 she also served as the executive director of the Netherlands Institute of Government (NIG), the Dutch national graduate school for public administration and political science. In 2014 she was appointed full professor at Leiden University. She is currently involved in the establishment of the Leiden Leadership Centre, an expertise center on public leadership at Leiden University.
Sandra Groeneveld has joined the LNVH board in September 2018.
---
Sandra Ponzanesi
Sandra Ponzanesi is Professor of Gender and Postcolonial Studies, Department of Media and Culture Studies/Graduate Gender Programme, Utrecht University and Head of Humanities at Utrecht University College, the Netherlands. Among her interests is the reception of the postcolonial field in relation to the cultural industry, the understanding of the notion of Europe from a postcolonial perspective, postcolonial cinema studies, and the exploration of digital literacies of migrants in transnational contexts. She is currently project leader of the ERC consolidator grant "Digital Crossings in Europe: Gender, Diaspora and Belonging." The project aims to investigate the relation between migration and digital technologies, in particular the way in which the 'connected migrant' contributes to new forms of European integration and cosmopolitan citizenship. The project explores digital diasporas in relation to issues of gender, ethnicity and affective belonging, focusing on how new technologies enhance new forms of connectivity between the homeland and destination countries, bus also across diasporas. The project pioneers a new interdisciplinary method that combines media studies, postcolonial theories, digital humanities and gender studies, drawing from the humanities and social science.
Sandra Ponzanesi has joined the LNVH board in May 2016.
---
Henriëtte Prast
Since 2005, Henriëtte Prast is professor Personal Financial Planning at Tilburg University. She is a member of the Senate (Eerste Kamer) of the Dutch Parliament as part of the D66 fraction.
Henriette Prast joined the board in July 2017.
---
LNVH bureau
The bureau is the beating heart of the LNVH. Located in Utrecht, it houses a policy advisor, a programme officer and a secretary. They support, amongst many other things, the board in executing the long term policy. Please contact us directy or via our secretary for answers to your questions, policy advice, for/with suggestions for events, nominations, interesting facts and figures, articles. We are more than happy to help you. The bureau can be contacted via: 030 600 1361 or info@lnvh.nl
Drs. Lidwien Poorthuis (1982) is senior policy advisor at the LNVH. She studied French Language and Culture and Business and Organisation at Utrecht University and has been working in higher education and research for over 10 years. Since October 2013, she heads the bureau of the LNVH where she is responsible for policy making and policy development and the initiation and support of projects and activities in order to promote the proportionate representation of women within the Dutch university community. Contact Lidwien Poorthuis at: 06 15207225 / 030 600 1361 or poorthuis@lnvh.nl
Irma Scheer (1980) is secretary at the LNVH. She studied Graphic Design at the Utrecht Art & Design College and has worked as a graphic designer for over 10 years. In August 2017 Irma decided to make a career switch and joined the LNVH Bureau team. Contact Irma Scheer at 030 600 1221 or secretariaat@lnvh.nl