Mineke Bosch
Hoogleraar Moderne Geschiedenis (RUG)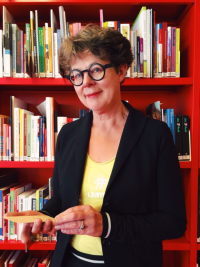 Mineke Bosch is historicus en hoogleraar moderne geschiedenis aan de Rijksuniversiteit Groningen.
Zij is gespecialiseerd in vrouwen- en gendergeschiedenis, met een focus op wetenschapsgeschiedenis, (auto)biografie en politieke cultuur. Voor zij naar Groningen vertrok bekleedde Bosch een bijzondere leerstoel gender en wetenschap aan de Universiteit Maastricht.
Ter gelegenheid van 100 jaar algemeen kiesrecht maakte zij een tentoonstelling in het Groninger Museum: Strijd! 100 jaar Vrouwenkiesrecht (20 april – 15 september 2019) en verscheen ook het boek Strijd! De Vrouwenkiesrechtbeweging in Nederland, 1882-1922, waarin zij de geschiedenis van deze beweging in tekst en beeld heeft vastgelegd.
Zij promoveerde in 1994 op een onderzoek naar vrouwen in hoger onderwijs en wetenschap in Nederland, eerdere boekpublicaties zijn Lieve Dr. Jacobs. Brieven uit de Wereldbond voor Vrouwenkiesrecht, 1902-1942 (1985), Politics and Friendship. Letters from the International Woman Suffrage Alliance, 1902-1942 (1990), en de biografie van Aletta Jacobs, Een onwrikbaar geloof in rechtvaardigheid (2005).
Zij was lid van de ETAN-groep die in 2000 het Europese rapport Science policies in the European Union: Promoting excellence through mainstreaming gender equality opstelde. Ook was zij één van de founding members van het European Platform of Women Scientists.